You have questions about Lunar New Year, and we have the answers! Plus, perfect pressies to turn empty hands into full hearts as we leap into the Year of the Tiger.
When is Lunar New Year?
Lunar New Year celebrations signal the beginning of spring — and, in its earliest form, was a holiday for farmers and workers to have a rest from their year-long hard labour. Today, this sentiment still remains! Those who partake in Lunar New Year celebrations take time off to rest and recharge during this time.
What is Lunar New Year?
Lunar New Year is celebrated during the new moon that falls between 21 January and 20 February. In 2022, celebrations will start on the 1st of February — and we are here to help you get organised.
What is the difference between Lunar New Year and Chinese New Year?
Often used synonymously, Chinese New Year is the correct term to use when celebrating the holiday within China. If the holiday is being celebrated in any other country, then it is referred to as Lunar New Year.
Who celebrates Lunar New Year?
Lunar New Year celebrations aren't just carried out in China, but across several countries and regions across the world! So, put the kettle on and take a load off before leaping into the Year of the Tiger with these Lunar New Year presents for giving others, reuniting over or keeping yourself.
---

Gifts of love
Show the world your stripes, for your cup is full and your energy is replenished. These Lunar New Year gifts are perfect to give loved ones — or for loving one's self! You secret is safe with us.
Sip through a mix of juicy fruit tisanes; delight in twenty chances to explore, experiment, relax and enjoy; or take a trip to Morocco that's bright, bold and fun. These Lunar New Year presents are for all the people you really love — including yourself.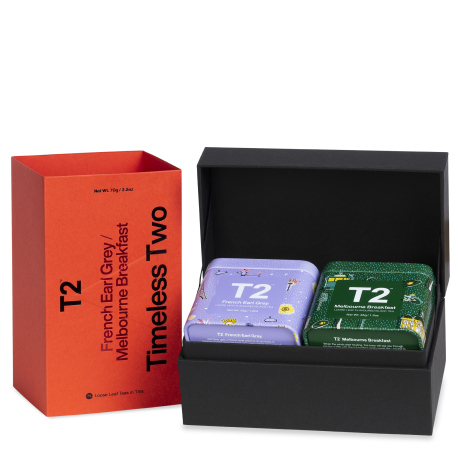 Icon Duo Gift Pack - Timeless Two

Gifts for visiting
Turn empty hands into full hearts this Lunar New Year. These gifts have been curated to pour goodness into the cups of those you are visiting.
Brew on the move with a completely leakproof tea flask; delight in a feast of kaleidoscopic colours and shapes; or experience the taste sensation of ten tried and true teas to tackle any craving. These Lunar New Year presents are a guaranteed gifting advantage.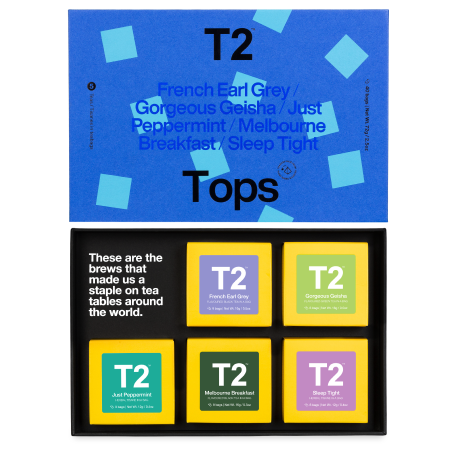 T2 Five Gift Pack - Teabags

Gifts for reunions
The perfect Lunar New Year presents to make up for lost time. This collection of replenishing gifts will have you drinking in the energy of those who surround you.
Over the year of the Tiger, open your senses to the kaleidoscopic colours of Moroccan Tealeidoscope; explore the eternal classics of Melbourne Breakfast and French Earl Grey; or have five of our faithfuls become their new favourites. These Luna New Year gifts are ones they actually want.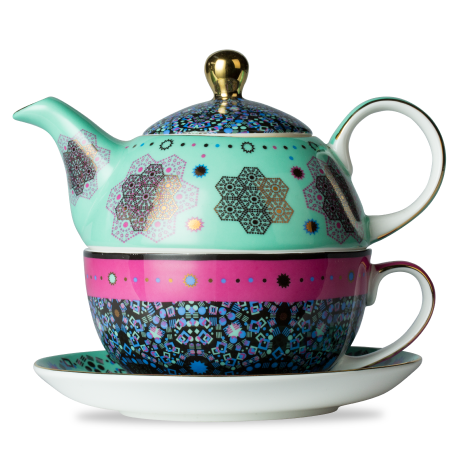 Moroccan Tealeidoscope Aqua Tea For One